Are you interested in exporting coconuts from India and exploring the international market? This guide provides a detailed, step-by-step process for sourcing high-quality coconuts and finding potential international buyers. With this information, you can tap into the lucrative coconut export industry and capitalize on the versatility and flavor of this commodity.
Why Choose Coconuts for Exports
Coconut products have witnessed a remarkable surge in exports each year, experiencing an impressive growth rate of nearly 50%. In the global trade market, India stands out due to its competitive pricing strategy, offering coconuts at INR 110/kg compared to Sri Lanka's INR 130/kg, firmly establishing India's position on the world stage. To put it simply, India is at the forefront of coconut production and productivity, making it a prime choice for coconut exports.
Opportunity in Coconut Export from India and Market Size
India is the world's top coconut producer and has a big chance to grow in the global coconut export market. In the 2021–22 season, India produced a whopping 31.45% of all coconuts worldwide, which is about 19,247 million coconuts. This shows that India can be a major player in coconut exports.
Coconuts are really important for India's economy. They add about RS 307,498 million (US $3.88 billion) to our country's economy and give jobs and food to over 12 million people.
Coconuts have many uses in India. People eat them, and coconut farming provides jobs for many. There's also a coir industry with over 15,000 coir-based businesses that employ almost 6 lakh people.
A good thing happening is that India's coconut exports are going up. In the 2021–22 season, we exported coconuts and coconut products worth more than Rs 3,236.83 crore (US $393 million). That's a big increase of 41% from the year before. This means people from other countries want more Indian coconuts and coconut stuff.
Indian coconut exports go to more than 140 countries. This means that people all over the world like our coconuts and coconut products.
If you're an entrepreneur, farmer, or businessperson, this is a good chance to get into the Indian coconut export business.

Government Incentives and Perks
Exporting coconuts offers various government-backed advantages that can significantly boost your earnings and make the process smoother. Here are some key benefits:
Duty Drawback:
Exporting coconuts comes with the advantage of a favorable duty drawback of 0.15%. This means you get a direct financial boost to your earnings without any added complexities. Additionally, you can leverage the expertise of a Customs House Agent (CHA) to ensure seamless shipping documentation.
Remission of Duties and Taxes on Exports (RODTEP):
The Remission of Duties and Taxes on Exported Products (RODTEP) scheme is a game-changer for coconut exporters. It offers a significant advantage equivalent to either 2.50% of your export value or Rs. 8.5 per kg, whichever is lower. For instance, if you're exporting coconuts valued at Rs. 10,00,000 and the lower value between 2.50% of the export value and Rs. 8.5 per kg is Rs. 25,000, you will receive this benefit directly impacting your bottom line.
Interest Equalization Scheme on Pre & Post Shipment Export Credit:
While the "Interest Equalization Scheme" is primarily aimed at manufacturers, it can still benefit coconut exporters. If you secure a loan at a 10% interest rate, the government steps in to cover a substantial 3% of that interest burden. This means you only pay the remaining 7% interest, providing significant relief for your coconut export endeavors.
Transport and Marketing Assistance Benefits:
The "Transport and Marketing Assistance" (TMA) scheme extends its supportive hand to specific agricultural products, including coconuts. It aims to provide assistance for international shipping and marketing aspects of agricultural commodities. By addressing challenges related to higher transportation costs associated with exporting designated agricultural products, like coconuts, the TMA scheme helps boost competitiveness. Moreover, it strives to enhance the reputation of Indian agricultural products in international markets, where Indian coconuts are valued and sought after.

In the dynamic markets of Dubai and Saudi Arabia, the TMA scheme becomes especially vital for the export of Indian coconuts. These regions, with a growing demand for premium agricultural goods, benefit from the TMA scheme's support in overcoming financial barriers linked to transportation costs. As a result, Indian coconuts gain increased accessibility and popularity among consumers in Dubai and Saudi Arabia, contributing to the overall success of the TMA initiative.
How to Source Coconuts for Exports
If you're new to exporting coconuts, don't worry; there are many opportunities to explore. Let's take a look at the main regions where coconuts are grown and in high demand.
Top 10 States That Produce Export-Quality Coconuts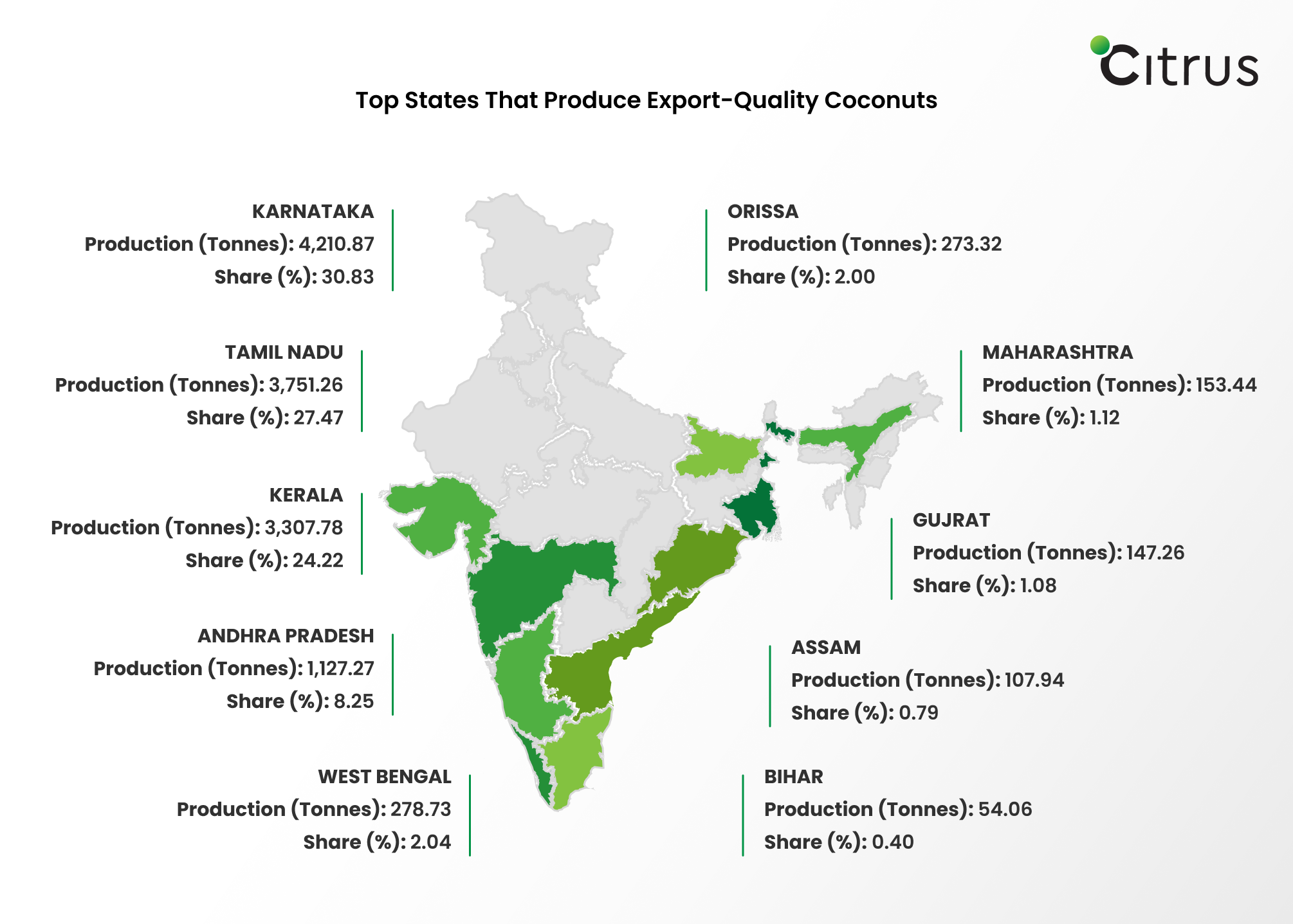 2021-2022
Sr No.
State
Production (Tonnes)
Share (%)
1
Karnataka
4,210.87
30.83
2
Tamil Nadu
3,751.26
27.47
3
Kerala
3,307.78
24.22
4
Andhra Pradesh
1,127.27
8.25
5
West Bengal
278.73
2.04
6
Orissa
273.32
2.00
7
Maharashtra
153.44
1.12
8
Gujarat
147.26
1.08
9
Assam
107.94
0.79
10
Bihar
54.06
0.40
Procurement Options: Farmers, Coconut Markets, and Vendors
If you're looking to export coconuts, there are a few options available to you:
Coconut Farmers: Buy directly from local coconut farmers. This method guarantees a fresh supply and allows for a personal connection with the growers. However, availability may be limited depending on the number of farmers in your area.
Coconut Markets: Check out coconut markets and cooperatives, which serve as central hubs for multiple farmers and suppliers. These markets often have set quality standards and pricing and provide a wider selection of coconuts.
Coconut Suppliers and Exporters: Consider working with established coconut suppliers and exporters. This option simplifies procurement as they have the expertise and networks to source coconuts from different regions, ensuring a consistent supply. Additionally, they may offer value-added coconut products and packaging services. Choose the option that's best for you based on your needs, whether it's quantity, quality, or convenience, to get your coconut export business up and running.
Understanding Coconut Packaging
Coconuts are typically packaged in corrugated boxes based on buyer preferences. This packaging choice ensures the coconuts' protection and freshness during transit, meeting international standards. Buyers may specify their preferred packaging type to align with their market and storage requirements.
When packaging coconuts for export, it is important to follow several guidelines to ensure their quality, consistency, and protection. Firstly, use clean, durable packaging materials that are free from contaminants to prevent damage during transit. Secondly, group coconuts of similar weight and size together in each package to create uniformity and avoid discrepancies in pricing. Proper ventilation is also crucial to prevent moisture buildup and spoilage, so make sure to use packaging that allows for air circulation while protecting the coconuts from excessive humidity. Additionally, ensure that the packaging provides adequate protection against physical damage and external factors like sunlight, pests, and temperature fluctuations. Clearly labeling each package with essential information, such as the variety of coconuts, weight, origin, and any required certifications, is also essential for compliance with international trade regulations. Furthermore, consider environmentally friendly packaging options to align with global sustainability trends and reduce the environmental impact of your exports. Finally, familiarize yourself with the packaging regulations and requirements of the target export market to ensure compliance with specific packaging standards that must be met.
Tips to Find the Best Supplier for Coconut Exports
When exporting coconuts, there are various options to consider, such as coconut orchards, wholesale fruit markets, or experienced coconut traders. Nonetheless, the key principles to prioritize are consistent: the quality of the coconuts and the dependability of your suppliers. Here's how you can apply this advice to your coconut exportation.
Quality is Paramount: Regardless of your choice of supplier, always prioritize the quality of the coconuts. Look for suppliers who consistently provide high-quality coconuts. This is essential to meet the stringent quality standards required for international coconut exports.
Reliability is Essential: Trustworthiness is a cornerstone of successful coconut exports. Ensure that your chosen coconut supplier can be relied upon to deliver coconuts consistently and on time. Reliable shipments are crucial for building a positive reputation in the export market.
Consider Diversifying Suppliers: It can be a prudent strategy to collaborate with multiple coconut suppliers. This approach helps you maintain a steady and uninterrupted supply of top-quality coconuts for your export operations. Additionally, it provides a backup plan in case one supplier encounters any challenges.
Setting Up Logistics for Coconut Exports
If you're looking to export coconuts, choosing a dependable freight forwarder is crucial. Follow these tips to find the right partner:
Expertise in handling delicate products: Look for a freight forwarder with a proven track record of safely transporting products like coconuts to international markets.
Efficient and dedicated team: Choose a forwarder with a skilled team committed to ensuring timely shipments and efficient logistics for your coconut exports.
Customer-focused approach: Find a forwarder that prioritizes your needs, offering valuable advice and guidance to help navigate the complexities of coconut export processes.
Fast quotes and exceptional service: Seek a forwarder that provides speedy, accurate pricing and delivers top-notch service to ensure your coconuts are transported safely. Reputation and reliability: Opt for a forwarder with a strong reputation for positive customer feedback, demonstrating their reliability and credibility in the industry. At Citrus Freight, we specialize in handling perishable goods like coconuts. With our experienced team, quick quoting process, and satisfied customers, we're here to help you enhance your coconut export business.
Essential Documents for Coconut Export
When starting a coconut export company, it is necessary to comply with legal obligations and obtain proper documentation. Although specific requirements vary by country, certain fundamental documents are typically essential.
To kickstart a coconut export business from India, there are several crucial documents you will need to have:
Company Registration: Start by formally registering your business as an export company with the relevant governmental authorities. This step establishes your business's legal identity, which is essential for international trade operations.
IEC (Import Export Code):Obtain an IEC (Import Export Code) from the Directorate General of Foreign Trade (DGFT). This 10-digit code is indispensable for facilitating import-export operations and is recognized by customs authorities, ensuring smooth coconut exports.
Tax Identification Number (TIN) or Employer Identification Number (EIN): Acquire the necessary tax identification numbers, such as a TIN or EIN, which are vital for tax compliance and financial reporting associated with coconut exports.
Trade License: Depending on the specifics of your coconut export activities, you may require a trade license. Ensure that you have the appropriate licenses if needed to operate legally and meet export regulations.
AD CodeYour bank will assign an, AD Code a unique identifier essential for foreign exchange transactions and tracking your coconut export shipments. Ensure you have this code in place to facilitate financial transactions and documentation.
Invoice: A detailed commercial invoice is essential, providing information about the buyer, seller, quantity, price, and terms of sale.
Packing List: This document outlines the contents of each package, including the number of coconuts, their weight, and packaging details.
Certificate of Origin: The certificate of origin states the origin of the coconuts and may be required by the importing country for customs clearance.
RCMC Certificate:: The APEDA RCMC (Agricultural and Processed Food Products Export Development Authority Registration-Cum-Membership Certificate) document is a crucial certification for Indian exporters of agricultural and processed food products. This certificate is issued by the Agricultural and Processed Food Products Export Development Authority (APEDA), which operates under the Ministry of Commerce and Industry, Government of India.
Phytosanitary Certificate: A phytosanitary certificate is issued by the relevant plant protection authorities; this certificate confirms that the coconuts comply with the phytosanitary regulations of both the exporting and importing countries.
Certificate of Inspection: Some countries may require an inspection certificate to verify the quality and condition of the coconuts.
Export License: Depending on the export regulations of the Indian government, you may need an export license or permit to export coconuts.
Customs Declaration:This document includes details about the shipment, such as the type of goods, their value, and the intended use.
Bill of Lading: If shipping by sea, a bill of lading serves as a receipt of cargo and a contract of carriage. It includes information about the shipment and acts as a title document.
Airway Bill:When using air transport, an airway bill serves a similar purpose as a bill of lading, documenting the shipment's details.
Insurance Certificate: If you choose to insure your coconut shipment, this certificate provides proof of insurance coverage.
Letter of Credit: If you're using a letter of credit as a payment method, ensure it complies with the terms and conditions of your buyer.
Insurance Certificate: If you choose to insure your coconut shipment, this certificate provides proof of insurance coverage.
Export Declaration Form: Depending on your country's regulations, you may need to submit an export declaration form to the customs authorities.
Export Packing Declaration: This document confirms that the coconuts have been appropriately packed for export.
Export Inspection Agency Certificate: For specific countries, especially those with stringent quality requirements, an inspection certificate from an authorized agency may be necessary.
Any Other Specific Documents: Depending on the importing country's regulations, you might need additional documents, such as a certificate of fumigation or a certificate of compliance.
Finding International Buyers for Coconuts
To expand your coconut export business, it is crucial to identify and target international buyers. This strategy will unlock new markets and pave the way for growth and success in the coconut trade.
Top Importing Countries for Coconuts from India
UAE
USA
Iran
UK
Nepal
Egypt
Kuwait
Pro Tips for Finding a Coconut Buyer in the International Market
To enhance your coconut export business, it's crucial to employ effective marketing and promotional strategies. Here are three practical steps to consider:
Invest in SEO: Elevate your online presence on the global stage by investing in search engine optimization (SEO). Ensuring that potential buyers can easily discover your coconut offerings is essential in today's digital age.
Build a Strong Brand: Establishing a robust online identity right from the beginning is vital. Invest in social media marketing and branding to create an online presence that resonates with international coconut buyers.
Leverage CHAs (customs house agents): Customs house agents often have extensive buyer networks. Don't hesitate to seek referrals from them to connect with potential coconut buyers and build valuable business relationships.
Conclusion
Exporting coconuts offers promising opportunities to meet the growing global demand for this tropical fruit. With a good understanding of sourcing strategies, logistics, and valuable industry connections, coconut exporters can navigate this business successfully.
When exporting coconuts, having a reliable partner like Citrus Digital Solutions can make all the difference. Our integrated platform ensures the smooth and secure transportation of your perishable cargo. With added services such as insurance, buyer identification, and trade finance, we provide a complete solution to support your coconut export endeavors, making your journey in the coconut trade a successful one.